Article 9 – Jasyn Lucas, Featured Artist
About the Artist: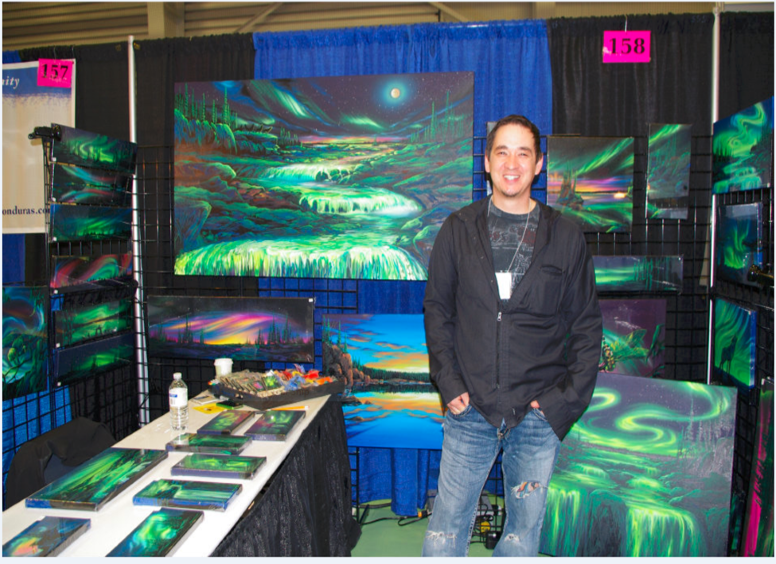 Jasyn Lucas was born in 1979 in Flin Flon Manitoba. He was a product of the Sixties Scoop. He spent first few months in a foster home, and then was adopted into the Lucas Family before his first birthday. Born Jason Bighetty, his new parents would change the spelling to Jasyn Lucas. His European Family was always supportive of his interest in Art and his original Native Bloodline and History. They also adopted three other girls.
Jasyn Lucas graduated from R.D. Parker Collegiate in 1997. Between 1999 and 2001, Jasyn moved to North Vancouver and enrolled in the Studio Art Program at Capilano College in North Vancouver where he studied Art History, Sculpture, Painting, Drawing and Printmaking. In 2002, Jasyn returns home to teach high school graphics art. In 2003, Jasyn returned to North Vancouver and completed the two-year studio art diploma program. When he lived in East Vancouver, he would take his bicycle for a round trip of 24 km daily. Usually he rode his bicycle in the rain, always feeling hungry!
In 2004, Jasyn returned to Thompson and worked a couple of odd jobs while doing art sales, eventually he took up tattooing and quit his job to fully focus on his art. Since 2004, Jasyn has travelled coast to coast doing shows and establishing art networks for ten years. He has showcased at festivals, powwows trade shows, does door to door sales to business in places such as Vancouver, Edmonton, Banff, Winnipeg, Thunder Bay, Hamilton etc. He has also done art classes with youth and motivational speaking with youth.
In 2010, Jasyn showcased at the Vancouver Olympics at three different venues including Whistler during the Paralympics. In 2011, he showcased at the World Art Market, University of British Columbia. In 2015, he opened an art gallery and tattoo shop in Thompson MB, which was the Gift of Art.
In 2018, Jasyn decided to go back to education. The next year, Jasyn returned to UCN Thompson for four year Bachelor of Arts and teaching degree.